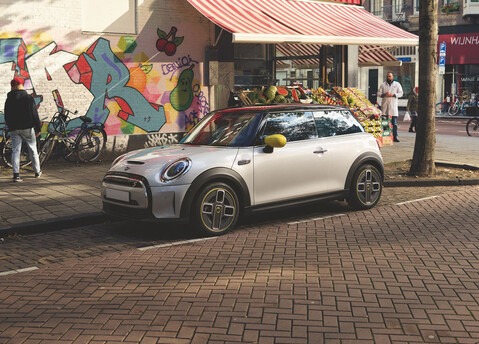 Sustainability.
BMW Group Park Lane are constantly trying to find ways to approach our business in the most sustainable way for our customers, our staff and the environment we live in.
Here are just a few of the changes we have made to our business to reduce our footprint and help make the world we live in a better, more sustainable place.
Our showroom space.
You will have noticed that our MINI and BMW I showrooms have been merged into our main BMW building at 70 Park Lane in July 2022. This was a decision taken by the business to reduce our physical footprint in light of the changes to the way we purchase cars and the digitisation of our world. We have reduced the showrooms we hold on Park Lane down from 3 to 1, bringing all our brands under one roof. This in turn reduces our footprint and with that, our energy consumption
The way we move our vehicles.
For anyone who has visited Park Lane for a collection or test drive in the last few years, you will be aware that we have to manoeuvre our vehicles for you to view them. With our restructured process for test drives and rides, we have reduced our vehicle movements by 50% as we only have to move our vehicles when you are driving them instead of moving cars across the road, meaning less emissions are used for each test drive.
The way we clean our vehicles.
Last year we undertook a project to develop new valet bays in our current storage facility which enables us to clean cars onsite, as opposed to transporting them to another location for a clean or valet. This again reduces the movements required to get a car or bike ready for collection, and means we don't move cars outside our UCP car park to get cleaned, reducing the emissions created from this process.
Use of plastics
Due to COVID-19, the business much like all others, had to increase temporarily the use of single use plastics such as face masks to ensure the safety of our customers and staff. We are again on the mission to reduce the use of any single use plastics, and have replaced the cups used for our customers with glass where appropriate to ensure we are reducing out footprint as much as we can.
Remote working
As a business, we have increased our teams ability to work remotely where feasible, to allow our staff to do their jobs from alternative places than just the office. Some roles this may not be available, such as the technicians that work on our customers vehicles. But where possible, the business has allowed individuals to do this, and in turn, reducing the amount of our team commuting into our offices and the overall emissions as part of our employees commutes.
These are a few of the ways our Park Lane business is aiming to reduce our footprint, be more aware of what we consume as a business, and overall make choices for the good of our environment.
In addition to these for BMW Group Park Lane, over the past decades BMW Group have carried out many projects to make sure that their commitment to becoming sustainable is achieved. We have implemented significant standards in the life cycle assessment of BMW Group vehicles, beginning before we even start production, starting with the resources used, through to the energy consumption, to the recycling rate. Bit by bit, our path towards an environmentally friendly and emission-free future is becoming a reality.
Production
BMW Group is committed to keeping environmental impacts and resource consumption in the worldwide production as low as possible.
BMW Group have implemented environmental management systems at all the existing production sites, which are constantly being developed and optimised. We are also setting an important course with our recycling operations.
Recycling
Today, 99% of the waste generated by the global internal production of 2.5 million vehicles annually is recycled and recovered. And BMW Group are constantly working on raising this bar higher.
Other ways we use recycling:
We already use around:
25% secondary steel
up to 50% secondary aluminium in certain components
up to 20% secondary thermoplastics.
This use of secondary materials means we are reducing our CO2 footprint.
Sustainable Materials
BMW Group is always striving to use only the best materials when we produce our cars. Take a look at the number of sustainable resources we are currently using below
FSC Certified wood
At BMW Group we are committed to responsible and sustainable forestry by following to the strict standards of the Forest Stewardship council (FSC).
What it is used for? Step inside the BMW i3 and you'll find the instrumental panel which is made of FSC-Certified eucalyptus wood.
Kenaf
What is Kenaf? It is a plant from the hibiscus family with fibres that are put to a wide range of commercial uses!
What is it used for? The interior if the i3 comprises of 30% kenaf which sets the standard within the automobile production for the suitable deployment of resources.
Natural Rubber
What is it used for? The production of tyres.
In 2019 BMW Group founded the independent Global Platform for Sustainable Natural Rubber. The objective: structure the entire value-added chain of natural rubber so that is demonstrably sustained.
Econyl
What is Econyl? A recycled material, made from nylon yarn that is extracted from nylon waste
What is it used for? Used to produce carpets. We use it in the upper layer of floor coverings as well as in the floor mats of the new BMW iX.
Aluminium
Other than steel, aluminium is the most important resource for BMW Production.
Today we are already using up to 50% secondary aluminium in selected components.
Do you know which sustainable materials make up the BMW i3?
The BMW i3 has a recycling rate of 95%.
30% of its interior comes from kenaf
To produce the textile materials, we use an innovative yarn manufactured from granulates made of recycled PET bottles.
Batteries
Did you know we take back all used BMW and MINI high-voltage batteries worldwide and give them a second life?
During their "second life" vehicle batteries are put to use in stationary storage systems. For batteries that have exceeded their useful life as stationary storage, we recycle the high-quality materials to produce our new lithium-ion batteries
BMW Group has also made partnerships with Off Grid Energy to create another opportunity for a sustainable second-life solution for BMW Group electric vehicle batteries by supplying them with battery modules for them to create mobile power nits.
We are already thinking into the future and soon only green electricity will be used in producing our fifth-generation battery cells. This will save around 10 million tonnes of CO2 by 2030.
Sustainable Driving With BMW and MINI Plug In-Hybrids
As cities in the UK are increasingly discussing the introduction of "low emission zones", BMW group launched eDrive Zones in London and Birmingham. With electric ranges of up to 54 miles, BMW and MINI plug-in hybrid models are built with cities in mind, as they can complete most commuting trips on pure-electric power. This technology helps drivers do just that.
BMW Group eDrive Zones automates the process of switching to electric-only power when a BMW or MINI plug-in hybrid vehicle enters a defined area within these cities. The service also automatically ensures that the electric power is conserved for use during the part of the journey within the low emission zone if the journey destination is entered into the vehicle's navigation system.
Discover Our Electric Range