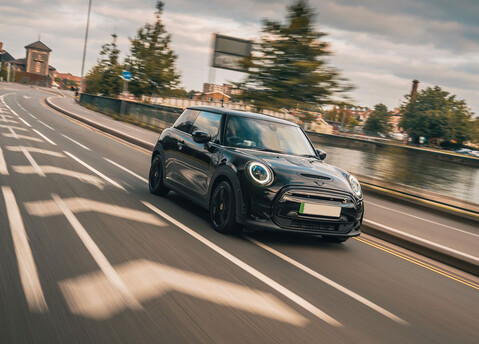 Going Electric.
We are the experts in all things electric. Whether you've already made the jump to electric and looking for your next step up or if you're making your first steps to making the switch to pure electric power, we're here to help you find the best option to suit your lifestyle.
Discover our ever-growing pure electric range, from our iconic BMW i3 to our first ever MINI electric or our all-electric scooter, the CE 04.
Is Electric for me? Follow our quick and simple questions to see which ultimate driving machine will be best for you.
Follow our quick and simple questions...
Can I save by going electric?
The short answer is yes. It pays to drive Electric and you can enjoy the many ways you can save money when you make the switch to electric, thanks to low running costs, simpler servicing and government grants.
The savings start here.
You can enjoy congestion charge exemption via the Cleaner vehicle discount. For more information about congestion charge and how to take advantage, please click here to visit the website to learn more.
At just 4p per mile, the BMW i3 costs a lot less to run than petrol or diesel cars. And with it being around three quarters cheaper to charge your car, it means you can travel more and spend less which means more time for adventures to be had. Thanks to the BMW i3 'Category 1' government rating, the BMW I3 is eligible for a £2,500 grant towards the purchase price.
And, if you're thinking about going Electric for your business car, then you'll be happy to hear there's a 2% BIK rate during the 2022/2023 tax year.
Electric motors, like the one found inside our electric range are less complex than their combustion relatives. This means there's less wear and tear and maintenance can be kept to a minimum. And to help even more when it's time for a service, we can help you keep costs down further with our simple pay monthly plans.
Calculate your savings here.
Charging
Whether at home or on the go, you'll find charging up to be simple with the BMW, MINI and Motorrad connected apps.
Discover the hundreds of places you can charge your BMW, MINI Electric or CE 04, from your driveway, to the supermarket and even shopping centres. We have included everything you need to know about both home and public charging below.
Home Charging:
Most charging happens at home. It can be done either overnight or between each journey.
The best most safe simple and tailored home charging can be done with the BP Pulse Wallbox. Charge your car up to 70% faster than a conventional 3-pin socket. If you're not yet to have one of these installed simply use your normal three-pin outlet and power up while you relax at home or overnight while you sleep.
What's more you can also benefit from a government grant towards your wall box of £350 if you have a driveway. To find out more about the BP Pulse Wallbox please click here to visit their website.
Public Charging
Planning your next road trip? Going electric won't hold you back. You have access to BMW Group Charging, a growing network of charging points across all UK regions as well as providing you with the charging solution that is best for you in any situation you find yourself in.
The BMW or MINI Charge Card
Receive your key to access 264,770 charging points at your BMW Group Park Lane Handover. One of the world's largest networks!
Customers who purchase a new fully-electric or plug-in hybrid BMW or MINI via a BMW or MINI Centre – including the new MINI Electric – are offered the 'bp pulse' package for 12 months without subscription fee. BMW customers who purchase a new BMW iX3 or BMW iX vehicle via a BMW Centre are also eligible for the 'IONITY Plus' package for 12 months, without subscription fee. Subject to *Ts&Cs.
Terms and Conditions.
Customers who have purchased a new fully electric or Plug-in Hybrid vehicle through a BMW Centre and whose vehicle handover takes place on or after 01.April 2021 will receive the "bp pulse" package for one year without subscription fee if they have registered for the Flex tariff.
BMW iX3, iX and i4 new vehicle customers purchasing through a BMW Centre also receive the "IONITY Plus" package for one year without subscription fee. The IONITY package ends after 12 months and is not automatically extended.
The offer is valid once for a specific vehicle and cannot be transferred to other vehicles or owners. After the subscription fee exemption expires, the regular Flex Tariff conditions will be applied. This promotional offer applies to the package subscription fee only, usage costs remain the responsibility of the customer. This promotional offer does not apply to used vehicles.
For full terms and conditions please visit here.
How does the BMW or MINI Charge Card's work?
Download the myBMW or MINI Connected app
Select your tariff and register

Activate your Card
Use the mobile app to find your nearest charging stations

Pay monthly with simple automated billing and manage everything online
Download the my BMW App for Android here
Download the my BMW App for iPhone here
Download the MINI Connected app for Android here
Download the MINI Connected app for iPhone here
Our quick tips for getting more out of your miles
Use the pre-conditioning function on the MY BMW or MINI connected app
Take advantage of one pedal driving (brake regeneration) which will go towards putting charge back into your batteries

Feeling chilly? Choose to use your heated seats rather than cabin heating. This will save as much energy as boiling two kettles but will leave your feeling just a toasted

Be aware that your summer and winter range will be different due to external temperatures
Always use your navigation, this will allow you to see all charge points on any journey taken.